Hello,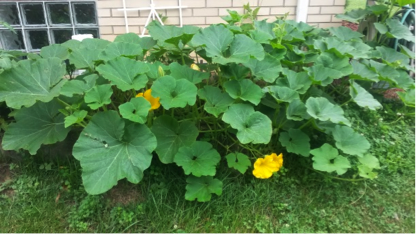 I planted a small garden this year. To my surprise a couple of plants popped up that must have been seeds from the compost I put in the soil. My mom use to call the plants that spring up out of nowhere "volunteers". So……I have a plant that is taking over. It's over seven feet long. It's starting to bloom. But so far I don't know what it is. Here's the fun part. Would you like to guess what it is? As soon as I know what it is I'll notify you in an email. If you guess it correctly I have a special gift waiting for you. Send your guess to 
contact@nutritionwithdoc.com
. Let's have some fun with this. Feel free to forward this email to friends. I'll be posting the guesses on Facebook at Nutrition with Doc.
---
The #1 strategy to stay on track is repetition. I know it doesn't sound sexy or high tech but it works. Repetition is a
http://omniacreator.com/wp-json/oembed/1.0//"http:////omniacreator.com//gallery///" key
to learning. Think about it. Anything you do repetitiously becomes a habit. The more you think about something, read about it, and do it, the more this shapes your personality, your thinking, and therefore what you do in life. Repetition is what you need to "own" something in your psyche. For example, if you could read the entire Bible one time and know it inside and out, you would never need to read it again. Of course, this is not the case.
It reminds me of something the Apostle Paul said: "It is no trouble for me to write the same things to you again, and it is a safeguard for you." (Philippians 3:1)
The importance of learning what you need to know about your health is a lifelong journey. It isn't a destination. A fatal mistake for many people is thinking they know what they should do with their nutrition. The science of nutrition is very complex and continues to evolve. Study of the science of nutrition as it applies to your health encompasses much more than you should eat more vegetables and less junk food to be healthy. Understanding the right nutrition that you need and putting it into practical application and practicing it (repetition) is critical for preventing cancers, heart disease, diabetes, Alzheimer's, and many other diseases.
This brings up the question "Where do I begin to find the right nutritional knowledge for my health and weight loss?" You should begin with finding a mentor/coach that has a time tested proven step-by-step system for you to attain your weight and health goals. Once you find the right person or people that can set you on the right path, you need to put the laid out plans that are given to you into action. Next, repeat it until it is automatic. Initially think of it as baby steps. You have to learn to walk before you can run. If you need a great get-started book, http://sandcityart.com/portfolio-items/hawthorne-gallery/?portfolioID=11535 The Happy Healthy Dieter will get you on the right track for your health and weight loss journey. Many of my patients have told me they use it as a reference guide and read portions of it often to stay on track with their weight and health. You can get the book by clicking here.
3 Reasons why repetition will change your weight and health for the rest of your life.
The truth is you can't overdo it with repetition. It's impossible. Here are three reasons why this is true.
People forget. No matter how clear a plan for your weight loss and health sounds to you, you will forget portions of it and the entire plan will not stick until you begin to repeat it. People's minds are like a sieve sometimes. No one retains everything they read or hear the first time.
People get distracted. In the modern age of technology we are all plagued by distraction. Many times this side tracks our focus from the important things that we should really be paying close attention to. This includes our spirituality, our loved ones, and our health. Purpose to focus on the things that will change your life for the good. All else probably doesn't matter that much.
People drift off course. Even my best patients who have been seeing me for their health care for decades need to be reeled in periodically. They can lose sight of their health targets and drift off course. Life's events can get in the way and throw you off the once established perfect nutritional path. In addition, your body changes overtime. This includes your metabolism changing, slower healing, increased inflammation, and accumulation of toxins. All of these inevitable changes affect your health outcome. The take away message is this. Don't be a slouch when it comes to your health. You need to put a little effort in now to avoid a lot of sickness treating effort later.
If you are truly interested in having a transformational shift in your health and your weight, you can contact me at contact@nutritionwithdoc.com . Tell me about your most pressing health concerns, what you've tried to do to make them change, and what it would mean for you to attain your health goals. I can only work with a few people one-on-one so please only contact me if you are serious about doing something about your health and are committed to making real changes.
---
I love the versatility of a frittata. You can have it for any meal. Pair it with a salad or side vegetable for a satisfying meal that will keep you feeling full longer. This yummy dish gives you all the taste as it shrinks your waist.
Ingredients:
6 beaten eggs
1 cup packed fresh leafy greens such as spinach, arugula, baby kale, etc.
1 ½ cups chopped vegetables such as zucchini, broccoli, yellow squash
¼ cup chopped onion
2 minced garlic cloves
½ cherry tomatoes cut in half
1 Tbsp. olive oil or 1 Tbsp. butter
1/3  cup shredded parmesan cheese (optional)
½ tsp. salt
¼ tsp. pepper
Directions:
Melt oil/butter in a large skillet over medium heat.
Add the chopped vegetables and onions. Sauté until they are eldente and the onions are slightly brown.
Add the minced garlic and leafy greens. Stir until greens begin to wilt.
Add the parmesan cheese, salt and pepper.
Add the beaten eggs.
Place a lid on the skillet. Allow the mixture to set until it is cooked.
You can cut this into pie type wedges to serve.