It's hard to believe that it's back to school time. Have you noticed that time seems to go faster as you are getting older? Soon the leaves will be turning beautiful colors and you will feel the change in the air that signals fall is soon approaching.
My tiny garden is almost done bearing veggies. The only thing left is a few green tomatoes. My garden wasn't as productive as it had been in past years so my friends and family have been giving me fabulous vegetables from their gardens. I think they may have an ulterior motive because they know I'll cook something with the veggies they give me to give back to them. Lol. It's so wonderful to have fresh vegetables grown naturally without chemical treatment. You know exactly what you're putting into your body.
One of my friends gave me a very large Spaghetti Squash from his garden. I decided to do something very different with it than bake it and top it with sauce. I made it into a fabulous pizza crust! The recipe is at the bottom. I am so excited about the recipe! This crust is a perfect food for your health and weight loss. It's high in fiber; therefore, it will help you to feel full. It is low in carbohydrates; therefore, it won't cause a big spike in your blood sugar that will contribute to your belly fat. It is chalk full of vitamins and minerals that will add to your health. It has ALL the taste and won't add to your waist!
You can find another great recipe that uses Spaghetti Squash and six more delicious recipes and sauces in the free report I've created for you. additional info Click here to download the FREE report.
If you have any friends or family members that you think would like to have this FREE report would you please forward this email to them. They'll thank you later.
---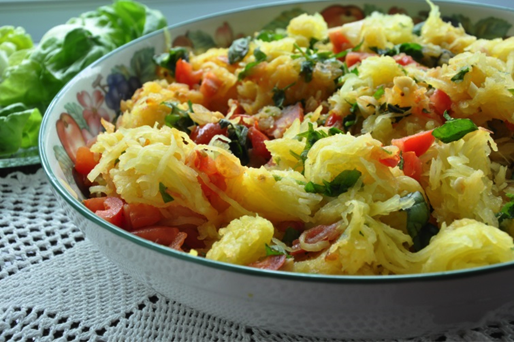 I've created a very special report for you. It is The Pasta Lover's Guide to Lose 3-5 Pounds in 7 Days. I've included 7 Delicious Fast Waist Slimming Recipes & Sauces.

I have so many easy no-dieting weight loss strategies I want to share with you. This pasta guide is just one of the many great strategies I've created for you to produce quick weight loss results. The Pasta Lover's Guide is an easy to follow guide for you to begin flattening your belly and lose 3-5 pounds in 7 days without deprivation or hunger. How great is that?!!
---
Spaghetti Squash Pizza Crust
Ingredients
:
1 Medium size Spaghetti Squash (5 cups cooked-see below)
2 cups shredded Mozzarella cheese
3 eggs beaten
2 tsps. Dried Italian seasoning mix
Directions:
Bake the Spaghetti Squash at 375 degrees for approximately 40 minutes or until you can easily stick a fork in the ends.
Remove squash from the oven and allow it to cool for at least 15 minutes. Cut it on a slight diagonal by-passing the stem. Using a fork take out the seeds that are in the center. Use the fork to start scrapping out the squash. It will look like strings of spaghetti. You will need 5 cups of the Spaghetti Squash for the recipe. Chop the squash into 1/2 inch pieces. In a large bowl add all of the ingredients and mix with a fork.
On a large baking pan spread the mixture out evenly. Create more of a thickness on the edges to resemble a pizza. Bake at 400 degrees for about 40 minutes or until the crust begins to brown. Remove from the oven to add your favorite toppings. Place back in the oven for an additional 10 minutes. Enjoy without the guilt!