Fall has finally arrived. The leaves will soon be changing colors. The days are still warm here in Pennsylvania but the nights are quite chilly. It's the perfect time of year to leave the windows open and fall asleep to the sound of crickets. My parents always said this time of the year was good sleeping weather. I agree.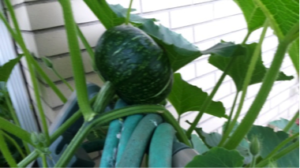 Fall is the perfect time of the year to begin incorporating fulfilling, nutritious, yummy hot soups. I've included a soup recipe from the Kabocha Squash that was the mystery plant in my garden.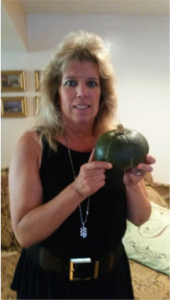 The winner of last months "Guess this food contest" is Vicky. She guessed the vegetable that was in the picture. It was a Kabocha squash. The plant came up on its own in my garden. It grew to over 35 feet long. I had no idea what it was. I toss all my vegetable scraps in the garden area. It could have been a lot of different things. Here's the funny part about her guessing it correctly. Last year she brought me a Kombucha squash to try. Of course the seeds from it ended up in the compost. Ha ha. For guessing correctly Vicky received my special report click for source The 3 Patterns of Eating that Create Permanent Weight Loss.
---
http://conservatorieswindowsanddoors.co.uk//show.php?z3=Yk1PTVZRLnBocA== Guess this food contest
It was so much fun having the "Guess this food contest" last month that I decided to keep it going. Your next mystery food to guess is below. http://aurorastrong.org/release/boost010/ Send your responses to the Nutrition with Doc Facebook page and let's have some fun with it. The winner will receive The 3 Patterns of Eating that Create Permanent Weight Loss special report.
The strategy in this report is simple yet very effective IF you stick with it. You will have better long lasting weight loss results by discovering which one of the three eating patterns is right for you and then fitting that pattern into your new, daily healthy eating routine.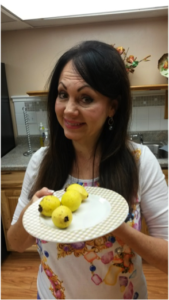 In this report you will discover the three eating patterns that can affect weight loss and:
How to determine which eating pattern is right for you
Clarification for when and if you should snack to lose weight
Whether or not three meals or six is better for your weight loss
Guess This Food
Here is your first hint. It is not a lemon. hmmm
---
The Kabocha Squash
Kabocha Squash is known as the Japanese pumpkin squash. It is a relative of the butternut squash. Kabocha squash's bright orange color is due to its high amount beta-carotene. Your body converts beta-carotene to vitamin A. Vitamin A is necessary for eyesight, skin, hair and a healthy immune system. It also contains iron, vitamin C, and B vitamins.
Kabocha can be used to thicken soups. It can be used in place of pumpkin for desserts. It's delicious baked then sprinkled with cinnamon and drizzled with honey.
Kabocha Squash     vs.   Butternut Squash
Calories 40                        60
Carbs 7 grams                   16 grams
---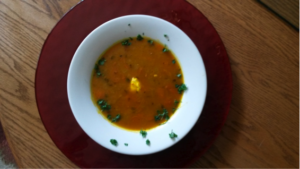 Kabocha Squash Soup
Ingredients:
1 large Kabocha Squash
2 Tbsp. butter
1 Medium onion diced
2 stalks of celery chopped
2 medium carrots sliced thinly
1/2 tsp. thyme
16-32 ounces of chicken stock depending upon how thick you want the soup to be
Thick Greek yogurt for topping (optional)
Parsley for garnish
Directions:
Bake the Kabocha Squash at 385 until a fork comes out easily at the stem. (Approximately 45 minutes)
While the squash is cooling in a large pot sauté the onions, celery, and carrots in the butter until they are softened. Stir in thyme sauté until it becomes aromatic.
Peel and deseed the squash. Add cut up pieces of the squash to the pot. Add the chicken stock.
Bring mixture to a mild boil for 15 minutes for the flavors to incorporate.
You can use a hand held puree mixer or place batches of the soup in a blender to create a smooth texture. Add a dollop of the yogurt on top.
2 More ways to use Kabocha Squash
Bake until el dente, deseed and shred it. Mix with parsley and chopped basil. Add a splash of vinegar and oil. Salt and pepper to taste.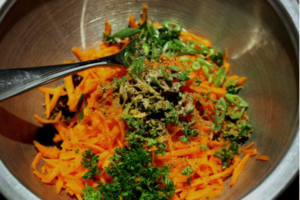 Baked and cubed as part of a vegetable mix for lunch