http://raptorcommandmusic.com/?p=221 Easy Bolognese
http://understandingsin.com/wp-login.php?action=jetpack-sso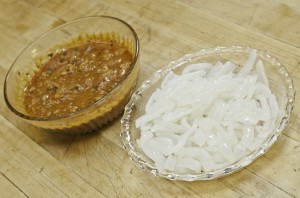 where can i buy Clomiphene or serophene Ingredients:
½ pound ground pork
½ pound lean ground chuck
1 large onion diced
2 ribs celery diced
1 carrot chopped
3 cloves minced garlic
1 large can crushed tomatoes
1 T. chopped basil
1 ½ tsp. salt
½ tsp. pepper
½ cup dry wine
½ cup canned milk
Parmesan cheese for topping
Heat a large sauté pan over medium heat. Add pork and ground meat with 1 tsp. salt and ½ tsp. pepper. Sauté until slightly browned. Push meat to one side of the pan. Add carrots to the other side of the pan and sauté for 3 minutes. Add the celery and onions. Sauté all vegetables until the carrots are tender. Add ½ tsp. salt to the vegetables. Mix together with meat.
Deglaze the pan by adding the wine while scrapping the bottom of the pan to get all of the bits of food integrated into the mix.
Add the crushed tomatoes, basil, and milk.
Simmer on low for 20 minutes. I love Bolognese with the Shirataki ziti noodles. Rinse the noodles well and top with this delicious Bolognese sauce. Sprinkle a little parmesan on top. You're going to love this recipe!
If you would like to purchase the Shirataki noodles, you can find them under the products tab.