source url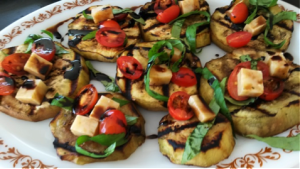 Ingredients:
One medium eggplant cut in ½ inch rounds
Organic olive oil for dipping eggplant
1/8 cup Balsamic vinegar reduction
3 ounces Mozzarella or Provolone cheese cut into 1/2 squares
¼ cup leaves fresh basil cut into strips
½ cup cherry tomatoes slice in half
Sea Salt & Pepper to taste
Dip each piece of eggplant into olive oil until it is thoroughly coated. Salt and pepper both sides of each eggplant piece. Place on medium high heat on the grill. Grill until stripes are created on each side.
In a bowl combine the cheese, basil, and tomato. Spoon mixture on top of the grilled eggplant. Drizzle balsamic reduction over the top.
Side note: You can purchase a balsamic reduction or you can easily make your own by heating ½ cup of balsamic vinegar over medium heat until it thickens. Stir it occasionally. It will render about 1/8 of a cup when it is thick.