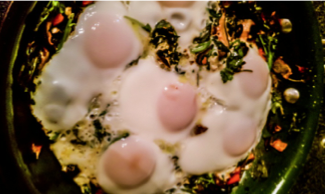 2 eggs per person (this recipe will serve up to 4 people using 8 eggs)
1 bunch of broccoli rabe
2 cloves of garlic minced
4 ounces sliced mushrooms
1 tbsp. olive oil
Salt and pepper
In a medium sauce pan add 1 inch of water. Place on medium heat.
Wash broccoli rabe well and cut into pieces. Steam until leaves are

http://scozglass.com/product/mini-dragon/?add-to-cart=371 wilted. (about 5 minutes)

In a large skillet add the olive on medium heat. Sauté mushrooms

until they are browned.

Add the garlic and sauté for 45 seconds.
Drain the broccoli rabe and toss with mushrooms and garlic in the

skillet.

Gently crack each egg over the mixture.
Cover for a few minutes until eggs are done.