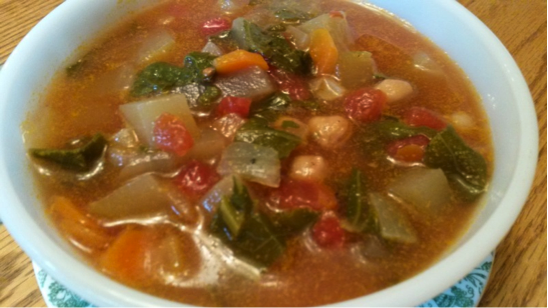 Garden Soup
Ingredients:
Olive Oil to coat the bottom of the pot
1 cup diced onions
1 large carrot thinly sliced
½ cup celery thinly sliced
2 cups cubed zucchini
1 Tbsp. chopped parsley
2 large tomatoes diced or a small can diced tomatoes 14 oz.
2 minced garlic cloves
1 quart chicken broth
1 can chick peas (drained)
2 cups chopped packed kale
Directions:
Use olive oil to coat the bottom of the soup pot.
Combine all ingredients in pot except the kale.
Cook on medium heat for 15-20 minutes or until vegetables become tender.
Add Kale and cook for additional 5 minutes.
Serve.