see Ingredients: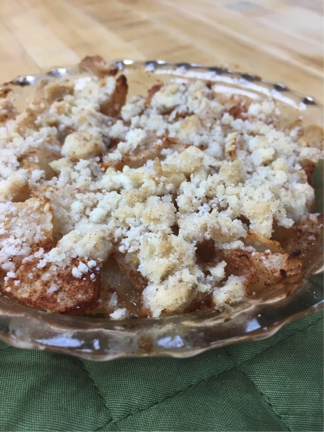 8-10 cups peeled and sliced pears and apples (you can use only pears or apples or both)
1 cup gluten free flour
½ cup organic raw sugar
½ tsp. salt
1 tsp. baking powder
1 egg beaten
3 Tbsp. melted butter
3 tsp. cinnamon
Mix pears, apples and 1 tsp. of cinnamon in a 9 x 13 pan.

Mix flour, sugar, 2 tsp. of cinnamon, salt, and baking powder together in a bowl. Add the egg and butter mixture.

Stir together with a fork until it looks crumbly. Crumble the mixture on top of the fruit. Bake at 375 for 30 minutes or until the top is golden brown.