see url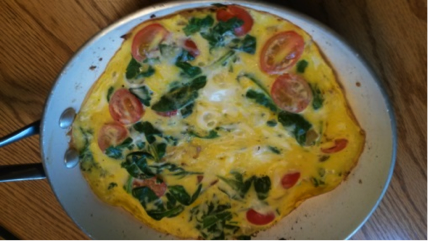 I love the versatility of a frittata. You can have it for any meal. Pair it with a salad or side vegetable for a satisfying meal that will keep you feeling full longer. This yummy dish gives you all the taste as it shrinks your waist.
cheap date lyrics Ingredients:
6 beaten eggs
1 cup packed fresh leafy greens such as spinach, arugula, baby kale, etc.
1 ½ cups chopped vegetables such as zucchini, broccoli, yellow squash
¼ cup chopped onion
2 minced garlic cloves
½ cherry tomatoes cut in half
1 Tbsp. olive oil or 1 Tbsp. butter
1/3  cup shredded parmesan cheese (optional)
½ tsp. salt
¼ tsp. pepper
enter site Directions:
Melt oil/butter in a large skillet over medium heat.
Add the chopped vegetables and onions. Sauté until they are eldente and the onions are slightly brown.
Add the minced garlic and leafy greens. Stir until greens begin to wilt.
Add the parmesan cheese, salt and pepper.
Add the beaten eggs.
Place a lid on the skillet. Allow the mixture to set until it is cooked.
You can cut this into pie type wedges to serve.
– See more at: http://nutritionwithdoc.com/2016/06/27/1-strategy-stay-track-health-weight-loss/