Grilled Romaine Hearts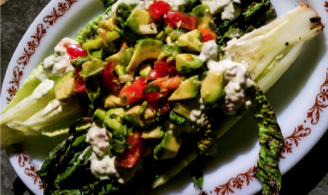 2 romaine hearts cut in half length-wise
2 tbsp. olive oil
1 diced tomato
1 avocado dicedBrush the surface of the romaine hearts with 1 tbsp. olive oil. Place flat side
down on the grill on low heat. It only takes about 30-45 seconds for the lettuce to be charred. Remove and turn flat side up.
Mix together the following in a small bowl.
6 tbsp. plain Greek yogurt
1 tsp. lemon juice
1⁄4 tsp. salt
1/8 tsp. pepper
1 tsp. vinegar
Drizzle the dressing on top of the romaine hearts and top with the dicedtomatoes and avocado. Serves 4.