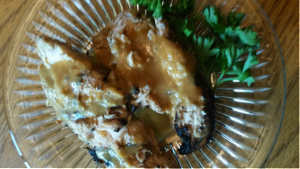 This marinade recipe is great as a salad dressing, steak sauce or drizzled on top of fish.This recipe will marinate 2 pounds of chicken breasts (or tenders).
Ingredients
4 Tbs. Tamari (or soy sauce)
1 Tbs. olive oil
1 tsp. fresh chopped ginger
1 clove garlic
1 tsp. hot green pepper Tabasco sauce
1 cup chopped pineapple
1 tsp. salt
½ tsp. pepper
DIRECTIONS
Place all ingredients in a blender and blend until smooth. Reserve ¾ cup of the mixture for dipping. Place chicken pieces in a Pyrex dish and cover with the marinade. Marinate for at least 3 hours or overnight. Oil the grill before adding the chicken to the grill. Grill on low heat until the chicken is browned on both sides. Enjoy!