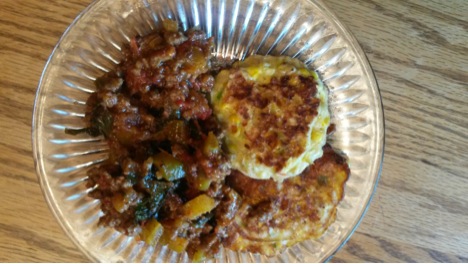 Sloppy Joes at half the calories and all the great taste! Hmm Hmm Good!
Ingredients
1 lb. lean ground meat

1 cup diced onion

1 cup green pepper chopped

1 hot pepper chopped (optional)

3 cups finely diced zucchini

3 cups fresh tomatoes chopped or 1 large can crushed tomatoes

2 cups packed chopped spinach, Swiss chard, or kale

1 Tbs. Worcestershire sauce

1½ tsp., salt plus 1 tsp. salt

¾ tsp. pepper

2 garlic cloves minced

Oil enough to coat skillet
Directions:
1.   Coat a large skillet with oil, place on medium to high heat.
2.   Add ground meat. Salt with 1 tsp. of salt. Cook until all the meat is no longer pink. Push meat to one side of the skillet.
3.   Add the onions and peppers. Sprinkle with ½ tsp. of salt. Sauté until the onions and peppers are thoroughly wilted.
4.   Mix the meat with the onions and peppers. Sauté for an additional 5 minutes or until the meat and vegetables are browned.
5.   Add the spinach (or Swiss chard or kale) and tomatoes and ½ tsp. salt. Stir until spinach wilts.
6.   While the meat is cooking, coat a separate skillet with oil and add zucchini on medium heat. Sauté the zucchini until it is browned. Add the remaining ½ tsp. salt.
7.   Add the garlic and toss.
8.   Toss the zucchini in with the meat mixture.