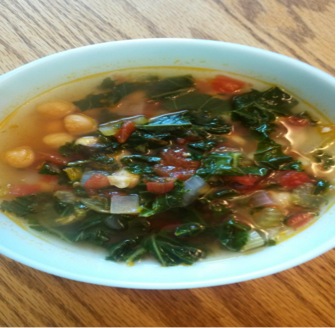 Ingredients
1 Quart organic chicken stock

1 large onion diced

2 celery ribs finely sliced

2 cups chopped packed kale (remove stems)

2 cups chopped fresh tomatoes or 1 can diced tomatoes

2 garlic cloves chopped

2 cans of chick peas (rinsed)

1 bay leaf

3 thyme springs or ½ tsp. thyme

1½ tsp. salt

½ tsp. pepper

Oil to coat the pot
Directions:
1. Place large stock pot over medium-high heat. Add enough oil to coat the bottom. Add the onions, and celery.
2. When onions and celery become translucent, add salt and garlic. Sauté an additional 2 minutes.
3. Add remaining ingredients and bring to a boil. Turn the heat down to medium-low and cook an additional 10 minutes.
4. Remove Bay leaf before serving.
Enjoy!