We've all done it… Dilly dally, hem haw, procrastinate, call it what you will. It's all based on indecision.
Here's an eye-opening fact. Indecision can cost you your health and a lifetime of needless suffering.
Think about it. How often does indecision keep you from what you really want? It's actually mind boggling when I think about this.
But what if you gave due consideration and then just made a decision…no hem haw, no dilly dally? I'm talking about making a quick decision that you know you should make like decisions to invest in right nutritional supplements, to sign up for nutritional coaching, to stop eating the foods you know are detrimental for your health. What possibilities could open up for you? Perhaps these possibilities for your health would include disease prevention, pain elimination, and a higher quality of life. The possibilities are numerous. The results of these decisions could change your energy, relationships, increase your life enjoyment and so much more.
Learn the top 3 saboteurs that prevent you from making decisions for your health and find out what God thinks about indecision and the rewards of making a quick decision today at 4 p.m. on Facebook live at Nutrition with Doc. I'd love for you to join me today as I continue with 10 Biblical Principles to Create Your Best Health. You can receive all 10 Biblical Principles to Create Your Best Health in an eBook in the future when you sign up at www.nutritionwithdoc.com for the free report The 5 Best Energy Tips to Create High Energy All Day Every Day At Any Age. You'll be kept up to date with the latest information and events that will contribute to your best health.

Gluten Free Ricotta Pie Recipe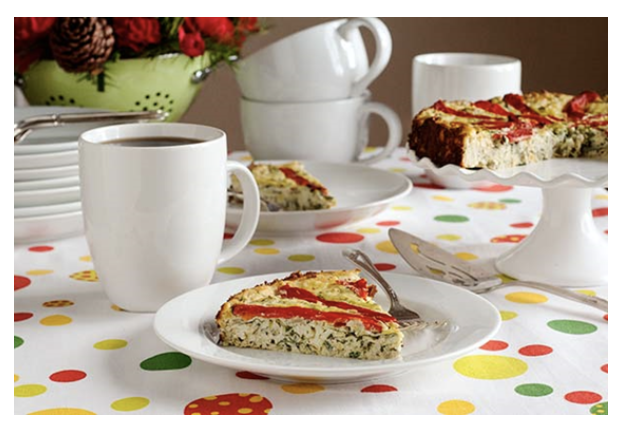 Ingredients
Olive oil
4 large pastured eggs
4 ounces ricotta cheese
4 ounces Parmesan cheese, grated
½ teaspoon kosher salt
¼ teaspoon freshly ground black pepper
1 (14 ounce) can artichoke hearts, chopped
1 cup (packed) baby spinach leaves, chopped
2 roasted red peppers, cut into strips
Directions
Oil a 9-inch springform pan. Cut a piece of parchment paper to fit the bottom, place in the pan and lightly oil the paper. Preheat oven to 400 degrees.
Whisk the eggs with the cheeses, salt, and pepper. Stir in the chopped artichoke hearts and spinach. Pour the mixture into the prepared pan. Lay the pepper strips on top and drizzle the top with about 2 teaspoons of olive oil. Bake for 40 – 50 minutes or until set. Let cool for 5 – 10 minutes in the pan. Serve warm or at room temperature. Can also be served cold.
Servings
Serves 6-8

To your best health,
Dr. Paulette Sedlak