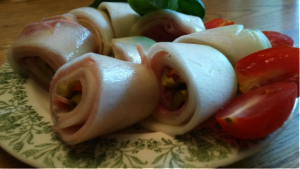 Zucchini Antipasto Roll Up's 
Ingredients:
1 medium zucchini
Ham and or salami (no nitrates or nitrites)
Chopped olives
Fresh basil leaves
Thinly sliced white cheese (Swiss, provolone, etc.)cut into 1-2 inch strips
Directions:
1. Slice zucchini strips on a mandolin to about ¼ of an inch
2. Place a strip of lunch meat on the end of each zucchini strip. Lay a strip of cheese on top of it followed by the chopped olives and basil leaf.
3. Roll up the zucchini and eat immediately.
Cut the zucchini in half on a diagonal to make an impressive appetizer. Serve immediately. Because zucchini has high water content, it will start to lose water in a short period of time. If you want make the roll-up ahead of time, you will need cut the zucchini into slightly larger strips, coat each zucchini strip with olive oil and grill it.