Ingredients
1 large zucchini shredded
1/3 cup diced onion
1 egg beaten
¾ tsp. salt
½ tsp. pepper
½ cup shredded parmesan cheese
¼ tsp. nutmeg
Olive oil (coat pan)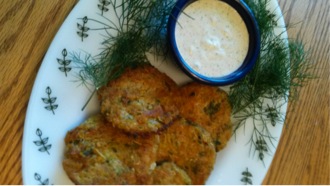 Directions: 
1.    Place zucchini in a strainer. Mash zucchini with a potato masher to press excess water out.
2.    In a large bowl, mix all ingredients together.
3.    Form patties approximately 2 inches round. Place on greased baking sheet.
4.    Bake at 350 degrees for 30 minutes. Flip and bake an additional 10 minutes or until brown on both sides. Dill Sauce Ingredients:
1 small container of plain Greek yogurt
3 Tbsp. of fresh dill minced
Mix together!