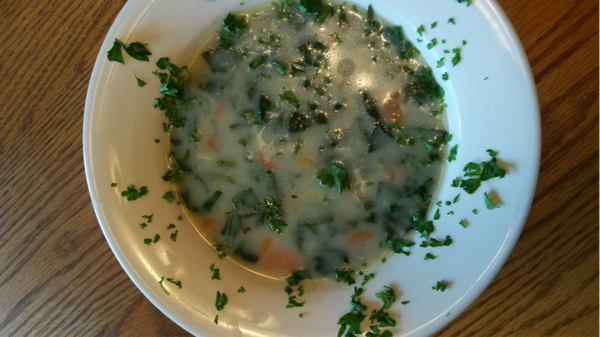 Ingredients
1 quart chicken stock
1 large onion diced
3 celery stocks sliced
3 large carrots thinly sliced
2½ cups bite sized potatoes
1 large potato cut into quarters
4 cups cubed zucchini
3 Tbsp. fresh parsley
2 sprigs fresh thyme or 1 tsp. dried thyme
Olive oil to coat bottom of stock pot
1½ tsp. salt
½ tsp. pepper
3 chopped garlic cloves
Directions: 
1.    Heat olive oil over medium heat. Add onions, celery, and carrots.
2.    Sauté for 5 minutes. Add ½ tsp. of salt and sauté another minute.
3.    Add chicken stock and 1 large potato cut into quarters.
4.    Bring to a boil for 5 minutes.
5.    Add zucchini and remaining ingredients.
6.    Boil for 8 to 10 minutes until potatoes are cooked.
7.    Remove the large potato pieces with some broth.
8.    Place in blender or food processer until liquefied.
9.    Add back to the soup and stir.