For today's discussion on Facebook live, I'll be continuing the series 10 Biblical Principles to Create Your Best Health. You are going to learn the #1 reason that is the kryptonite for your future health. In addition, I'll address the importance of finding the right information to implement for your health. Yes, even seeking right counsel is a principle found in the Bible (Proverbs 19:20, Proverbs 20:15)
The Word of God is the ultimate practical guide for your life. If you're looking for answers for daily living, direction, clarity, and even guidance for your health, it's all in there. God gives us direction concerning where to look and where to go for practical information. God has given us wise counselors such as doctors, right pastors, and many others. He places provisions in our lives to provide what we need when we need and seek it. The question becomes, do you seek what you need for the best health of your body, mind and spirit? I hope so!
I hope you can join me today in learning what the Scripture has to say regarding these matters. If you can't make it live, no worries, the session will remain on Facebook. Also, as my gift to you, I will send an eBook, 10 Biblical Principles to Create Your Best Health to you in the future if you sign up for the free report at www.nutritionwithdoc.com. This free report is The 5 Best Energy Tips to Create High Energy All Day Every day at any Age. By signing up for this report you'll be kept informed with the latest updates and information to help you achieve your best health.
Kale and Chick Pea Soup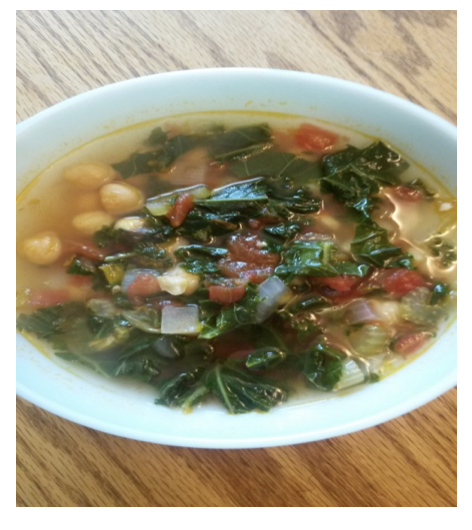 Ingredients
1 Quart organic chicken stock
1 large onion diced
2 celery ribs finely sliced
2 cups chopped packed kale (remove stems)
2 cups chopped fresh tomatoes or 1 can diced tomatoes
2 garlic cloves chopped
2 cans of chick peas (rinsed)
1 bay leaf
3 thyme springs or ½ tsp. thyme
1 ½ tsp. salt
½ tsp. pepper
Oil to coat the pot
Directions:
Place large stock pot over medium-high heat. Add enough oil to coat the bottom. Add the onions, and celery.
When onions and celery become translucent, add salt and garlic. Sauté an additional 2 minutes.
Add remaining ingredients and bring to a boil. Turn the heat down to medium-low and cook an additional 10 minutes.
Remove Bay leaf before serving.
Enjoy!

To your best health,
Dr. Paulette Sedlak