Attention!
If you want a proven way to supercharge your health and build a strong immune system to defend against viruses and chronic illnesses
Get ready to energize your God-given health potential in just 30 days! 
Dear friend,
In 3 John 2 of the Bible it says, My beloved, I wish above all things that you may prosper and be in health even as your soul prospers. That is what I want for you. It can be so frustrating as you age to be worn down with health problems that zap your energy and cause you bodily distress. What can you do? The untold and hidden truth is . . . much can be done to decrease or eliminate the health problems that you may be experiencing. Have you been told the ailments you have are something you have to live with? There is a very good chance that this is not true.
What if I told you that you could:
Dramatically change your health in 30 days
Boost your immune health to stave off pathogens like viruses and bacteria
Increase your energy exponentially
Decrease muscle and joint aches and pains
Change your blood sugar if you're a diabetic
Diminish the risk of chronic diseases such as cancer & heart disease
Lose stubborn belly fat that adds to inflammation in your body
It's true! I've helped thousands of people change their lives by changing their health through utilizing right nutrition, right nutritional supplementation, right support, and specific programs that I've designed like The Back to Eden Purification Program. Will you be next person to have a health transformation?
If you feel like there is nothing more you can do and you just want to give up, you are not alone! I feel your pain, I've experience it personally, I want to help you.
Hello, I'm Dr. Paulette Sedlak. I'm a chiropractor, a Board-Certified Clinical Nutritionist, and I hold a Master's degree in nutritional biochemistry. I am passionate about helping people be the best they can be by providing information and instruction that can enable health and healing to the body, mind, and spirit. I believe everyone has a God-given gifts and abilities. In addition, God has given to you the awesome responsibility of taking care of the wonderful miraculous temple He has designed for you to live in. It is my portion, if you choose my help, to teach you how to maximize your health potential so you can be the best God has designed you to be.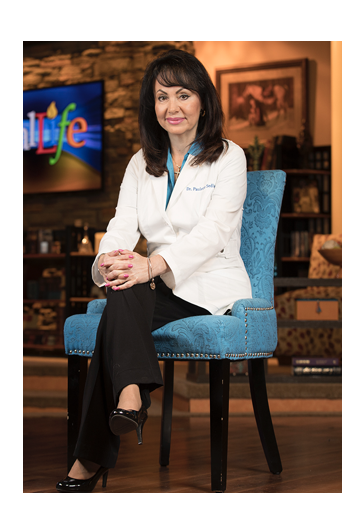 Why should you listen to me? In addition to being in private practice for over 3 decades and helping thousands of people attain and maintain their weight and health goals, I am an author of The 10 Commandments for Perfect Health. Also, I am the nutritional advisor for Cornerstone Christian Television Network where I have had the privilege to help the thousands of people who tune in to listen to the health tips I provide regarding how to take care of yourself throughout your life. But, just as important, I am committed to helping you achieve and maintain your very best health potential.
Your health affects every aspect of your being
If you don't feel well and have low energy you can't do or enjoy what you want to do in life. The good news is this all can change. I know where you are. I have been there myself. Right now, I lead a very active life. I have incredible energy and enthusiasm for life, with no sign of slowing down. I have huge plans for the future and am grateful to have the vitality and health I need to live a rich, full life. But it wasn't always this way. When I was in Chiropractic College, I gained a lot of weight. It was so bad that when I came home for holidays, the first thing my family did was comment on my weight. I felt horrible. My self-esteem was low, I felt awful in my clothes. I became withdrawn, which is the opposite of my usual friendly nature. In addition, I felt tired, rundown, and seemed to be sick most of the time. I tried so many diets, but nothing worked. One day, I saw a colleague who had seen me jogging that morning. He made a comment about not realizing how much weight I had gained until he saw me in shorts. I was mortified. And in that moment, I resolved to make a REAL change. Not only did I feel badly about the weight gain, I was dealing with poor health too.
I started to research difficult weight loss and low energy because I knew something wasn't right. I was dieting, but the weight just wasn't coming off and I was struggling with low energy trying to get through the day every day. In my research, I discovered the key to stubborn weight loss, low energy, and disease reversal was by resetting the overstressed organs in the body.
With this information, I developed a system and I lost over 40 pounds.  Once I discovered these secrets, I was amazed at how fast the weight came off, how my energy soared, the aches and pains went away, and my digestion improved. I knew I was on to something, so I started using my system with patients. I've now helped thousands of patients to not only lose the weight, but reverse critical illnesses like diabetes, digestive disorders, high blood pressure, heart disease, food addiction and many others.  My patients constantly tell me how much their lives have changed – that I have given them their life back!
I want you to have your life back too. That is why I created The Back to Eden Purification Program.
Would you like to know the #1 secret to reversing any illness?
 This secret is the most overlooked solution to making permanent health changes in any health condition!
If you're ready to make a real difference in your energy, how you feel, and your present health condition in 30 days, then the following information is important for you.
As you age many changes occur with your overall health that you may not be aware of.  Toxins in products you come into contact with, from the environment, foods you eat, air you breathe, and fluids you drink accumulate in your body causing damage on a cellular level. These toxins are processed through the liver and other organs. When your body becomes overloaded with toxins, these changes affect.
How your body processes toxins that can lead to disease
The increase in fat mass on your abdomen and overall weight gain
Energy production
How much inflammation is in your body causing disease and pain
The breakdown of cells that can lead to cancer & heart disease
Proper digestion and much, much more
The Back to Eden Purification Program contains what you must do to change these effects and many others that may be affecting your weight and overall health.  This jumpstart plan has a therapeutic effect on your body and has the potential to begin creating:
Less pain in your body – So…you can feel a difference in how you move and feel in your body.
More energy – So….. You can go through your day without fatigue and enjoy life again
Fast weight loss – So….. Your confidence will begin to soar when you can see a difference in how your clothes fit, within days!
Improved digestion – Many people report relief from bloating, gas, belching, and acid reflux.
Improved cardiovascular symptoms – Many people have been able to decrease or eliminate blood pressure medicines.
Balanced blood sugar – Diabetics have been able to reduce or eliminate blood sugar medications.

Imagine the life changing affects this can have for you!!!!
In just 30 days, you will begin to create a NEW healthier you by following the 4 Part System in the Back to Eden Purification Program.
Caution: Positive EFFECTS are likely to occur. You're probably going to have to a lot more energy. You may need to start thinking about what you are going to do with the extra energy.
If you feel that:
You're tired of being sick and tired and are ready for a health breakthrough
You've been waiting for a solution to overcome chronic low energy
You want to get rid of stubborn fat quickly without starving yourself
You're concerned about your health problems and want a real solution
You're aches and pains are taking a toll on you & you want a relief solution
It's time to take charge of your health
Then this program is for you!
Here are some of the success stories from my patients who have experienced the benefits of the 30 day Back to Eden Purification Program. 
"I lost 14 pounds and can keep up with my great-grandchildren!"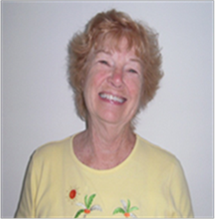 I had wanted to improve my digestion and lose 10 pounds. Before I did the Back to Eden Purification Program, I had felt tired and experienced headaches due to a chemical sensitivity and poor digestion.  Now I feel great and think much more clearly! I am no longer nauseated. I can keep up with my great-grandchildren! Other people tell me I look and act so youthful for being a great grandmother in my 70's. I recommend that everyone considers the Back to Eden Purification Program, even if you think you are already in good health. You will be surprised to discover how much better you will feel from applying this program's information.   ~ Ruth M.
"I use to get sick all the time. Now I rarely even get a cold."
For years I struggled with recurrent colds and flu due to a weakened immune system. I was always fearful to be around people that were ill because I knew I would contract whatever contagious illness they had. I found out by doing Dr. Sedlak's purification program that there were specific foods that I had been eating that compromised my immunity. The purification program taught me how to regenerate my immune system and now I rarely become ill. Now, I feel great and my health has been renewed. This has given me a great outlook on life! ~ Mary Jane S.
"The Back to Eden Program gave me my life back!"
For over 30 years, I've suffered from asthma. I was diagnosed with Chronic Obstructive Pulmonary Disease (COPD), and my physician found several suspicious nodules on my lungs. Weight gain added to my difficulty breathing. The worst part about being so short of breath was that I was unable to play with my great-grandson on the floor.
After the first week, I began to breathe better.  After 3 weeks, I lost 10 pounds and developed more energy than I had in years and I no longer needed to use my inhaler or oxygen.  One month later, my physician scheduled my follow-up CAT scan.  The lung nodules were completely gone!
I lost 36 pounds, and have gained a new outlook on life.  The Back to Eden Program did wonders for my self-esteem and gave me my life back.  The best result of the program for me is that I am now able to get on the floor and play with my great-grandson. ~ William W.

In 30 Days you will move through these 4-parts of the Back to Eden Purification Program
I'll show you how easily the 4 parts of the program work to create a re-charge for your body's systems to release stubborn fat from your body, and change your health on a cellular level to create more energy to prevent damage that causes chronic diseases.
Preparation
Detox
Protein Food Additions
Foods Reintroduction
Here are the 4 Parts of the 30 day program Back to Eden Purification 

Part 1 Preparation – You will have a stress free enjoyable experience knowing you are ready to tackle each part of the program with ease. I've included:
No hunger pantry strategies – You won't be hungry because you'll have everything planned ahead of time by following the guides I've provided in this section.
Exactly what you'll need to eat and not eat throughout the 30 days of the program. This will take the guesswork and stress out of meal planning for each week.
Your preparation guides include:
Food Recommendations for Preparation
Foods to Avoid
Preparation tips for successful purification
Important Food Buying Tips
Helper Guidelines for Health Conditions

Part 2 Detox – This is the vegetarian part of the program that eliminates specific foods. These foods may be causing inflammation and cellular destruction in your body. They are the most common foods causing sensitivities that lead to inflammation (aches and pain), allergies, and chronic illnesses. These foods are most often overlooked as a primary cause of many symptoms and chronic illnesses. By eliminating specific foods, many people have experienced less pain in their body, better digestion, more energy, and many other improvements.
Part 2 – Detox 2 includes:
Which foods to avoid that are the most likely to be causing ill-health symptoms that can lead to chronic ailments
Specific Tips and Recommendations for Detox
Food Suggestions for Menu Planning for Part 2 – Detox
The Liver Detoxification Process
Detoxification Support Through Skin
Colon Support for Detoxification
Lung Support for Detoxification
Kidney Support for Detoxification

Part 3 Protein Food Additions – Although the entire program incorporates protein in the diet plan, Part 3 is the time when more protein will be introduced. Specific protein foods will be suggested to:
Add to your energy
Support strong bones and muscles
Increase variety to your menu planning for designing delicious meals

Part 4 Foods Reintroduction – This is the most exciting health part of the program because this is the part where you will find out which foods may be causing your health symptoms. I've had many patients tell me they are absolutely amazed how this part of the program works to uncover the root of their problems. They would have NEVER known what was causing their health problems if they didn't do this program.

The Back to Eden Purification also includes an entire workbook complete with:
Daily health tips
Summaries on how you should be feeling each day
Daily weight loss tips
A daily journal to write about your progress
Following the workbook on a daily basis will keep you on track. It will motivate you as you continue to write about your daily achievements and health changes. You'll be encouraged to see how they are making a positive difference in your everyday life. You'll be excited as you write about your health progress and how it has changed your life.

I have to give this one 5 stars. This one step alone is worth the price of the entire program. In addition to all the aforementioned, I've included special bonus training where I will teach you exactly how to eliminate the toxins once they are mobilized out of your cells and organs. Most detox programs only explain how to process toxins through your liver and leave you hanging from there!  However, ridding your body of toxins once they are processed through your liver is an essential part of your wellness! If toxins are not properly eliminated, they can cause "detox symptoms" such as headaches and overall sick feeling symptoms. I will walk you step-by-step through the process of eliminating toxins from your body to achieve your best results to rejuvenate your health.
BONUS 2
FREE PRIVATE CONSULTATION – This is Included for those who purchase the program in the first several days of the initial enrollment period. You will be eligible to sign up for a private 40-minute consultation with me. This is regularly a $250 fee. During this consultation I will give you my best health advice for whatever condition or symptoms you are experiencing and recommendations for your next best health step. The information you will gain during this call can potentially change the trajectory for your health the rest of your life. This offer is very limited. Once the time slots are filled, the offer expires. After you purchase this program you will be notified as to whether you are eligible for the free consultation. DON'T wait to sign up for this program! The slots will fill up quickly.
BONUS 3
I've included a recipe book that contains recipes for each part of the program. These delicious recipes will keep you feeling satisfied while your energy soars. You will be enthused as you feel and see the difference in your health. I've included a fun way to track your progress by including a workbook that contains daily tips for each day of the program, a daily journal, and special tips on how to accelerate weight loss and specific health suggestions. This will allow you to track your progress and help you each step along the way.

Supplement Support for this Program
There are specific nutrients that are needed to support liver and whole-body detoxification. Without them, your body may struggle to process toxins through the phases of liver detoxification and elimination. The recommended supplements are:
Ultra Protein Green Plant Based Protein with Phytonutrients (Douglas Labs) – This nutritionally comprehensive plant protein powder contains all the essential amino acids, as well as a comprehensive blend of vitamins and minerals to support optimal health. It is made with yellow pea, a non-allergenic, non-GMO source of protein. This powder mixes in water or other liquids to create a delicious protein shake containing natural vanilla flavor and sweeteners. You may order and find a full description of the contents in this product at https://us.fullscript.com/welcome/drsedlak
Detoxification Pack (Designs for Life) – You will receive 60 packs in a box. It is recommended to take 2 packets daily during this 30-day program. The following capsules are found in each packet to support the detoxification and elimination of toxins from your body.
Each pack contains:
Detox Antitox – 1 capsule
LV-GB Complex – 1 capsule
Amino-D-Tox – 1 capsule
You may order and find a full description of the contents in this product at https://us.fullscript.com/welcome/drsedlak
How to Order the Supplements that Support Detoxification
It is easy to set up your direct account at Fullscript (the supplement distributor). They will send these supplements directly to you. Simply follow these steps to create your own private account.
Set up your personal account at Fullscript by logging in with the following link (it may take several seconds for the page to load) https://us.fullscript.com/welcome/drsedlak
Proceed with setting up your account and log into it. Click on the button that says "Go to your practitioners Categories (this may take a few seconds for the page to load).
Click on Categories
Then, under Dr. Sedlak's Dispensary, click on Purification Supplements
Select the Ultra Protein Green – French Vanilla Flavor and also the Detoxification Support Packs. It's that easy!
NOTE: I want you to have the best results possible. It is your responsibility to purchase these supplements that are designed to support detoxification. You will maximize your greatest results by taking these supplements during the program.

Here's what is included in the Downloadable Back to Eden Program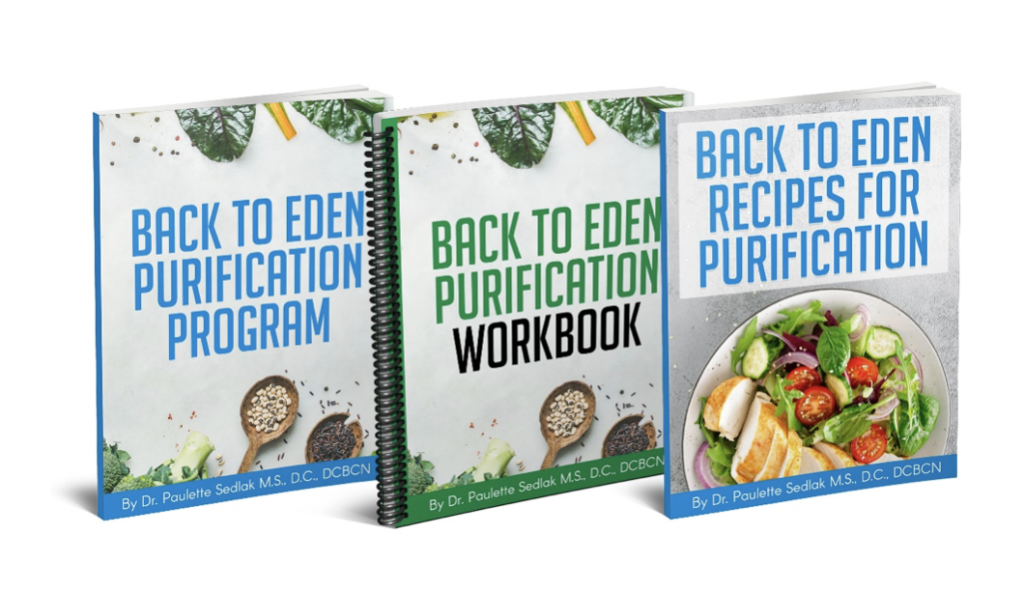 Complete Manual with easy step-by-step instructions for the program
BONUS #1 – Special training on how to eliminate toxins from your body
BONUS #2 – PRIVATE CONSULTATION (for limited time only)
BONUS #3 – Back to Eden Recipe Book
BONUS #4 – Menu Planner
BONUS #5 Complete grocery shopping list
Get ready to have a transformation in how you feel that will set you on your path to enable you to do what you were meant to do in your God-given life.
If you are suffering with any of the following conditions: 
Arthritis
Fibromyalgia
Auto Immune disorders
Difficult weight loss
Low energy
Diabetes
Headaches
Indigestion, hiatal hernia, gastric reflux, Barrett's Esophagitis
Ulcerative colitis
Crohn's disease
High blood pressure
Heart disease
And many others then……….This program is for YOU!

How this program is different from other purification programs:
I am personally going to walk you through the entire program step-by-step. I'll practically be holding your hand.
The program includes a workbook that contains a daily journal, daily support tips for each part of the program, and information to keep you on track along the way.
I've included a recipe book that contains delicious dishes to satisfy any palate so you will never go hungry.
I've included a separate grocery shopping list for you to take to the store to take the guesswork out of what you will need.
Special additional training: This includes the information regarding how to eliminate toxins from your body. Most programs only explain the liver detoxification process and not how to actually enhance your body's elimination of these toxins. Having this information is worth the entire price of the program.
My personal policy: I want you to be able to stay on track with ease throughout each part of the program. Therefore, I have a personal 'leave no person behind policy'. I want you to feel good about purchasing this program and have the security of knowing you will be supported throughout the entire program. That's why I will be addressing your concerns live during the teleseminar trainings throughout the program. If you have any questions or hit a stumbling block throughout the program, I will personally address your concerns.
Note: You may purchase the program at any time. However, I will only be answering your questions live during the live presentations that are offered only twice a year. If you can't make it for the live presentations, you can submit your questions to [email protected]
This is a limited program! I am only offering this program live twice per year. This program is available live in the spring and fall of each year. I recommend that practically everyone can benefit from doing this program twice a year. And….I am going to do the program with you. I love sharing what my experiences are as I go through the program with you as well as hearing about your experiences. I take your health efforts very seriously. That's why I do the program with you.
Don't waste time! You could spend years and thousands of dollars trying to figure out what works to make a real change in your health. The downtime from daily pain and/or surgeries that could have been avoided can take a toll on your everyday life. Ongoing suffering from health conditions means precious time is being wasted from living and enjoying your life to its fullest potential. Patients often asked me "What is the fasted way I can make a difference in my condition?" My answer is always decide, determine and DO the purification program.
Frequently asked questions
What if I don't have the time? I frequently hear this. My first response is you have to eat anyway. In Part 1 – Preparation, I'll tell you the time saving tips that will help you during and after the program and I'll even give you a food list you can take to the grocery store.  This will take all the time-consuming guess work out for you regarding which foods you need to purchase.
Do I need to have special food for this program? No. The foods you will be eating can be found in any grocery store. However, in the program, I've provided you with a list of foods that should be organic due to their high chemical exposure and processing.
What if I take medications? Although the program and nutritional supplements are considered to be safe, you should contact a qualified health care professional before beginning the program if you take medications or have a health condition. This program is designed to improve your health; consequently, many people have been able to reduce or eliminate many medications. Therefore, you may need a qualified health professional to monitor your progress in order to make appropriate positive changes in regards to medications you've been taking.
Sounds great! What is my investment?
Quite frankly many programs make claims that are unsubstantiated. They don't deliver what is promised.  Therefore, you can be spending thousands of dollars on plans that give you wrong information and not achieve the results you had hoped for. I don't want that to happen to you.
I want you to know the secrets that I'm going to share with you in the program because my passion is to change lives by giving people the information and tools they need to achieve optimal health.
Research has proven most diseases are preventable!  Why aren't they being prevented?  I know it is because most people don't have the knowledge they need to make a difference in their health. I want you to have the right knowledge that will change your energy, health, weight, digestive and immune system to prevent you from becoming statistic.
Get ready to see and feel the difference you can make in yourself in just 30 short days!
Your investment for this program would normally be $997. The value for your health…..PRICELESS However, I am offering it to you for a total of only $597 (This includes the cost of the supplements that you will need to order).  When you click on the following "Buy Now" button, your card will be charged $410.00 to purchase the program. When you order the supplements, your card will be charged an additional amount for the remaining balance.

Peace of Mind Guarantee
I know you're going to love the results of the Back to Eden Purification Program. I'm so confident about the value this program has to offer you. If you decide the program isn't for you when you review it within the five days of receiving the information, I'll refund your entire investment. The request for your refund must be submitted within 5 days of you purchasing the program. Your access to the program information and special bonuses will be permanently terminated at that time and will not be accessible.
This is a proven system!  The liver is a great filtration organ until it becomes clogged with fat and toxins.  This program is designed to assist liver detoxification and whole-body purification by supporting the removal of toxic build-up in your body that is responsible for inflammation, chronic diseases, blood sugar imbalances, and cellular damage that affects energy, difficult weight loss, etc. Frankly, there is no better program that will give you a big jumpstart toward your maximum health potential. And…I'll be with you every step to help you along the way.
To your best health,
Dr. Paulette Sedlak