Broccoli and Mushroom Aioli with Shirataki Noodles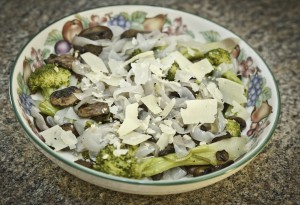 Ingredients:
3 cups broccoli cut into bite size pieces
4 ounces sliced mushrooms
2 minced garlic cloves
3 Tbs. olive oil
Parmesan cheese for topping
Salt and pepper
Directions:
In small sauce pan over medium heat, add ½ cup water and broccoli. Cook about 4 minutes until the broccoli is al dente.
In a sauté pan over medium heat, add 1 Tbs. olive oil with the sliced mushrooms. Sauté mushrooms until they are browned. Add garlic and salt and pepper to taste. Stir for one more minute. Don't overcook the garlic.
Toss all ingredients with the remaining 2 Tbs. of olive oil and 1 bag of thoroughly rinsed Shirataki noodles. Top with parmesan cheese.
Makes 2 servings.
If you would like to purchase the Shirataki noodles, you can find them under the products tab.