Pork Stir-Fry with Shirataki Noodles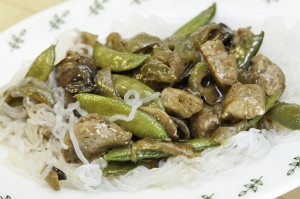 Ingredients:
1 lb. pork cut into strips
4 cups cabbage roughly cut
8 ounces snap peas
1 small onion roughly cut
2 celery ribs cut into 1-inch strips lengthwise
½ green pepper cut into strips
2 cloves minced garlic
4 Tbs. olive oil
¼ cup water
Salt and pepper 
Sauce:
1 cup chicken stock
1 Tbs. soy sauce or Tamari (gluten free)
1 tsp. stevia
1 Tbs. cornstarch
Directions:
In a small bowl, add corn starch and stevia. Slowly add the chicken stock and soy sauce while stirring. Set aside.
Salt and pepper the pork. In a sauté pan on medium heat, add 2 Tbs. olive oil and the pork. Sauté until the pork is browned. Add ¼ cup of water to deglaze the pan while scrapping the pork bits off of the bottom. Slowly add the sauce mix from the bowl while stirring until the mixture thickens. Set pork aside.
In a large sauté pan over medium-high heat, add 2 Tbs. olive oil and the cabbage. Stir for 3 minutes until the cabbage begins to soften. Add the rest of the ingredients except the garlic. Continue to sauté all of the vegetables until they are all al dente. Then add the garlic. Combine all of the ingredients in one pan. Add 2 servings of thoroughly rinsed Shirataki noodles and toss.
Makes 4 servings.
If you would like to purchase the Shirataki noodles, you can find them under the products tab.