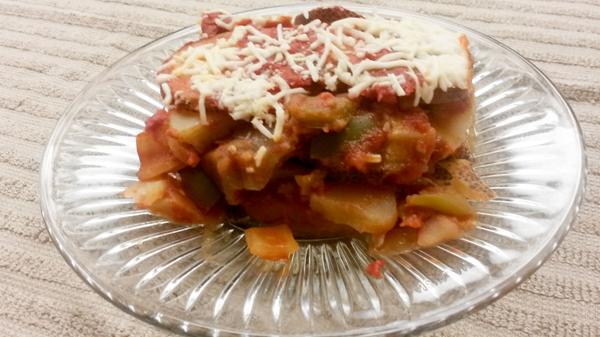 INGREDIENTS
1/8 cup olive oil, plus more as needed
1 cup diced yellow onion
2 minced garlic cloves
2 cups medium diced eggplant, skin off
1 cup diced green bell peppers
1 cup diced zucchini squash, skin off
28 ounces crushed tomatoes
2 tablespoons thinly sliced fresh basil leaves
1 tablespoon chopped fresh parsley leaves
½ tsp. each salt and black pepper
1 pound potatoes (about 4-5 medium size potatoes)
2/3 cup shredded parmesan cheese
DIRECTIONS
Clean potatoes and slice ¼ inch thick (a mandolin is recommend for even slices).
Place all potatoes in a medium saucepan and cover up to half way with water. Boil potatoes for 6 minutes or until they are al dente. Do not overcook.
Heat a large skillet over medium heat and add the olive oil. Add the onions to the pan. Stir the onions occasionally until they are lightly caramelized, about 5 to 7 minutes.
Add the eggplant to the pan and continue to cook, stirring occasionally, until the eggplant is partially cooked, about 5 minutes.
Add the green peppers, stir for about 2 minutes
Add zucchini and garlic stir for 1 minute
Reserve 1 cup of the crushed tomatoes aside. Add the remaining crushed tomatoes, basil, parsley, and salt and pepper and cook for 5 minutes with the lid on.
In a 9×7 pan spread ½ cup of the crushed tomatoes to coat the bottom on the pan. Add a single layer of potatoes on top covering all of the crushed tomatoes. Add ½ of the ratatouille mixture on top of the potatoes. Add 1/3 cup of the parmesan cheese. Add another layer of potatoes. Add the remaining ratatouille followed by a layer of potatoes. Spread remaining ½ cup of crushed tomatoes on top of potatoes.
Bake at 375 degrees for 35 minutes. In the last 5 minutes top the casserole with remaining 1/3 cup of parmesan cheese.
This is great as a family meal for lunch, dinner, or potluck.
This is one my 5 a day veggie recipes that ensures you are getting the minimum suggested amount of vegetables daily.