Spiced Tilapia with Asparagus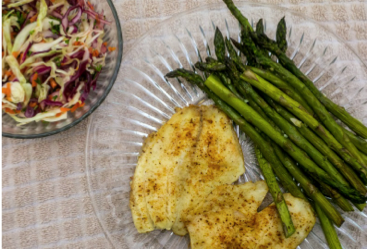 2 pounds organic asparagus, tough ends trimmed, cut into 1″ pieces
Old Bay Seasoning
1 pound tilapia, Pacific sole, or other firm white-fish fillet (about 4

pieces)

3 tablespoons extra-virgin olive oil
3 tablespoons lemon juice
2 cloves minced garlic
Salt and pepper

Preparation
Preheat oven to 400 degrees. Grease the bottom of a baking dish with 2 Tablespoons of olive oil.
Sprinkle the tilapia on both sides with the Old Bay seasoning, drizzle lemon juice on top and place in baking dish. Bake for 20 minutes.
In a separate baking dish, toss the asparagus, garlic, and 1 Tbsp. olive oil, salt and pepper. Spread out evenly on the baking dish. Bake for 10-15 until the asparagus is el dente.
Serve the asparagus with the fish and a side of coleslaw.