Zucchini Custard Pie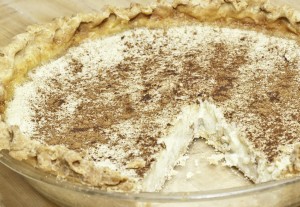 Ingredients:
3 cups cubed zucchini
1 tsp. vanilla
¾ cup sugar or ¾cup stevia or ¾ cup honey or ¾ cup agave nectar
3 cups almond or coconut milk
4 eggs
2 Tbsp. corn starch
Place all ingredients in a blender. Blend until the zucchini is totally liquid.
2 pie crusts (this can be made with a gluten free crust)
Preheat oven at 425 degrees. Bake pie crust for 5-10 minutes until the bottom is slightly brown, covering the edges with aluminum foil.
Pour all of the blended ingredients into the pie crust.
Bake for 15 minutes at 425 degrees.
Lower temperature to 375 degrees and continue baking for 45 minutes. You will need to bake the pie an additional 20-30 minutes if you use honey or agave nectar instead of sugar or stevia.
Insert fork to test for doneness.
Sprinkle cinnamon on top after removing from oven.
To make a coconut custard pie, add ½ cup of coconut to the bottom of pie crust before pouring in the liquid. Then add an additional ¼ cup of coconut to the top 5-10 minutes before it is done.
Recipe by Dr. Paulette Sedlak at cookingwithdoc.com
If you would like to purchase the Shirataki noodles, you can find them under the products tab.